It is wedding season again and most of the couples out there might be thinking of having a destination wedding in Kenya, that is if you are not in Kenya already. There are a lot of areas in Kenya that serve as great places for wedding destinations in Kenya ranging from beach venues to safari venues. This article is aimed at helping you make the best decision when it comes to picking the destination that will best suit your needs and guarantee you a memorable wedding day.
Wedding Destinations In Kenya 
THE MAASAI MARA; Apart from the long-distance runners, Kenya is also known for its vast wildlife. And, therefore, a safari wedding is ideal. The Maasai Mara has great wildebeest migration. And also having all the big five in one park making it the best place for the safari wedding. It is quite sad that most Kenyans do not actually have safari weddings. It is something unique and special as you get to have both a wedding and a safari all in one.  And also most of the mara resorts offer game drives as part of the wedding package.
DIANI BEACH; In case you are more of a beach person, then the coastal region of Kenya is the place for you. But not just the coastal region but Diani to be specific. For an intimate and private wedding then find a Villa near the beach. You can have the ceremony by the sea and the reception in the villa as well as the evening party. But this would only be suitable if you have a small wedding guest list 50-100 people would be ideal.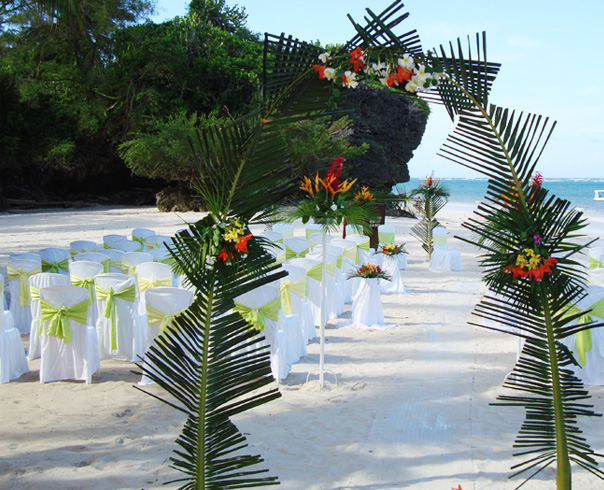 LAIKIPIA RANCHES; Interested in a safari wedding? Why not have the wedding in Laikipia. It has many privately owned ranches and conservancies that you can have a wedding. I want to point out that the conservancies have a variety of wildlife eg the Ol pajeta conservancy which also has some privately owned villas within it that you can rent out for the wedding weekend. The prices in Laikipia are relatively lower than the Maasai Mara rates.
RUSINGA ISLAND; Thinking of having your wedding on an island, well allow me to inform you that you do not need to be a millionaire owning a private island to afford the luxury islands bring.
Rusinga Island is an island on Lake Victoria Kisumu county. The Rusinga Island Lodge that is located on the Island offers great wedding packages making you feel like royalty as you celebrate your special day.
NAIVASHA RESORTS; Naivasha is best known for its many luxurious resorts. Your wedding weekend within Naivasha can be a mix of both safari and island weddings. That is if you make your plans well. A drive in the Naivasha National park and visit to the Crescent Island. You can also have a photo session there.
 TIP: Plan a destination wedding to fall on the low season, this will ensure that you get lower rates of the venues.
 Interested in booking any of these venues? Click here Event venues in Kenya